Novulo software development at Visiro

As an official partner, Visiro develops software with the Novulo .NET development suite. The Novulo development suite makes it possible to develop software in a graphical environment, together with the end user.

Generated software can be tested immediately and adapted to reflect your business needs. By using this method, you will always have exactly the software that you need.
Specialised partner for the aviation and maintenance industry
Visiro is specialised in developing Novulo applications for the aviation and maintenance industry. Based on our experience, we can always provide you with a solution that suits your business needs.
Tailor made: you are in control
As the software is designed and customised together with the end user, Visiro ensures that the software always fits the structure of your company. Even more so, by letting future users participate in the design process, end user acceptance is very high.
Start of the art web-based technology
All Novulo applications and the extensions provided by Visiro are web-based and can be accessed from any web browser, without having to install special plug-ins. The applications run on the Microsoft .NET framework and therefore, they can be easily integrated with your other business software.
Visiro special components
Visiro develops special software components that are targeted at the aviation and maintenance industry. These components can be fully integrated in every Novulo application.

The VisiroChart is a component that is used to visualise planning and scheduling problems.
More information
For more information, please contact us.

More information about the Novulo development platform can be found at the Novulo website.
Graphical application design
Using Novulo, database-driven applications are designed rapidly in a graphical design environment. Designed applications can be tested and adapted immediately. Read more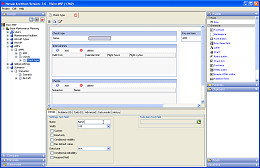 Graphical process flow
Not only the structure and input controls are designed graphically, also business flows are. This facilitates communication with the end customer. Read more